Webinar "How realistic is to build a new energy security supply architecture: Immediate actions"
1. "The European Union is in search of a new energy supply and demand architecture that will take account of the current crisis with Russia and climate change abatement strategies as well as its outreach to the neighbours and rest of the world. Not only the EU political leaders meet and ponder the options, but we all should contribute to this process," said Mehmet Öğütçü, acting as moderator in this roundtable and chairing The London Energy Club, in his opening remarks.  He managed to decry the current geopolitical and energy situation in Europe over the last two months, reminding: "Energy is always associated with geopolitics. it cannot be treated in isolation. But today it is becoming even more important."
2. The roundtable took place at a critical time when EU government and business leaders consider how Russia's aggression against Ukraine has fundamentally changed the notion of energy security in Europe and triggered actions to build a new energy architecture totally different from its heavy reliance on Russia. The invasion has underscored the extent of Europe's dependency on Russian energy supplies, as well as the commercial and geopolitical risks such dependency entails. It is a hard but achievable task to reengineer the energy system as done in the post-Arab embargoes of oil in the 1970s.
3. Almost two months into the ongoing war, Europe's energy markets are roiling from price spikes and, while the continent's energy needs appear to be met at present, supply shortfalls remain a serious (and ever increasing) risk. In light of this unprecedented situation, the European Union must reconsider the whole architecture of the European energy sector, both on supply and demand management sides, in order to regain its sovereignty and room for manoeuvre from both a political and economic point of view vis-à-vis Russia.
4. How to reduce gas imports from Russia and diversify as much as possible with new options while at the same time reducing energy consumption, enhancing efficiency and decarbonising in line with the Green Deal's energy transition goals is now a central policy challenge facing the European Union, its governments, financiers, and businesses in the years ahead.
5. Hosted by Pascal Michaux, Managing Partner of EU Focus Group and organized in partnership with The London Energy Club, this roundtable represented the first in a long series of webinars that will be dedicated to the key issue of rebuilding Europe's energy architecture and offering policy recommendations and business choices to the decision-makers.
6. Our high-level panellists, drawn from different walks of the energy world, have shared their thoughts and proposals under Mehmet Öğütçü's moderation as follows:
7. Tudor Constantinescu, Principal Advisor to the Director General for Energy, European Commission, featured "What are the next steps of the EU to build a new energy architecture in the aftermath of the Russian invasion of Ukraine over the next decade?". He stressed that after the pandemic and now the new geopolitical context, "the Green Deal is even more relevant than ever. What changes is the speed of implementation, which becomes even more urgent today." It is with this in mind that the Commission is outlining the guidelines for Europe's energy restructuring. The short- and long-term measures mainly concern gas diversification, energy savings and energy efficiency, the transition to hydrogen, storage plans, and so on. "We are trying to ensure the necessary predictability for industry and investors, while maintaining the focus on our Green Deal decarbonization objectives", he underlined.
8. In particular, he echoed what the political masters have instructed the European Commission to propose a RePowerEU plan to this effect by the end of May by:
Accelerating the reduction of our overall reliance on fossil fuels (in particular cutting dependence from Russian gas), taking into account national circumstances and Member States' choices of their energy mix;
Diversifying our supplies and routes including through the use of LNG and the development of biogas;
Further developing a hydrogen (mainly renewable) market for Europe;
Speeding up the development of renewables and the production of their key components, as well as streamlining authorisation procedures to accelerate energy projects;
Completing and improving the interconnection of European gas and electricity networks and fully synchronising our power grids throughout the EU;
Reinforcing EU contingency planning for security of supply;
Improving energy efficiency and the management of energy consumption, and promoting a more circular approach to manufacturing and consumption patterns.
9. Sheikh Mohamed AJ Althani, former Minister of Trade and Industry and a founder of QatarGas and RasGas, remarked on "Will the LNG help provide what's missing from the pipeline gas: What role Qatar can play in bridging the gap?". As a leading figure in the LNG world, he brought important insights into the capabilities on the ground to use LNG to replace Russian gas. Qatar exports around 80 million tonnes of LNG every year, with 30 percent only traded on the spot markets.
10. He argued that "LNG will not be an immediate recipe to fill the current deficit, it could take at least 4-5 years for new investment (if there is long-term contract signed up by the EU), shipping, receiving terminals in Europe and logistics to be ready. Personally, I don't think that Europe, in this action so far, can replace a sufficient percentage of Russian gas with LNG. The maximum that could be achieved, according to my calculations, is a replacement of 40 to 50 percent of this gas by the US and Qatar."
11. Realistic and strong commitments must therefore be made by the European Union so that we can positively respond. The Sheikh also drew a clear correlation between these realities and the green transition, clearly stating that: "there is no transition without gas in the near future".  He added that China was the party which profited most from this crisis.
12. Harry Tzimitras, senior fellow with the Global Energy Center, Atlantic Council, and director of Peace Research Institute Oslo (PRIO) Cyprus, covered his theme of "Geopolitics of a new European energy architecture: More confrontation or collaboration?". He offered a valuable analysis from a geopolitical perspective. It is essential to remain realistic and pragmatic, i.e. to understand the meaning of energy and relate it to realities on the ground, he explained." The message that the EU will diversify from Russia by 2/3 this year and 100 percent in the next two years is an important political message that the world needs. But I do not think it will happen because it does not reflect reality as such."
13. This pragmatism towards the current situation would also allow for due consideration to be given to our longer-term goals, such as the green transition, as these cannot be compromised by the current security challenges. Harry pursued, what we need is to "fill the existing gaps, i.e. the lack of a common thread connecting the dots. These dots are both thematic and geographical. We need to move forward carefully so that we can link our short-term goals to the longer-term goals."
14. Murat Çolakoğlu, Partner at PwC – Energy Utilities and Resources Industry Leader and Board Member at TR Wind Energy Association, provided a robust industry perspective on "future deployment of renewables".
15. Murat alluded that what the countries were announcing as targets in relation to the renewable investments, carbon emissions and the importance they attribute to these subjects up until now was contradictory to what they were doing on daily politics and regulatory arrangements. Started with the negative effects of the pandemic and, unfortunately, supported with the new geopolitical conflicts, each country has seen the truth, however, too late. He said: "We had climate crisis to be dealt with and we still had some time to take the relevant measures. However, we now have an energy crisis on top of the agenda but having no quick remedy. Besides, the quick so-called-solutions voiced by countries are all based on fossil fuels, especially coal. So, my question remains why the politics was so strong to restrain the investments on renewables for years?"
16. In his view, renewables were never going to be a solution to the climate crisis alone due to "capacity factor" depending on the technology we have as of today, but we could have been in a better position. He argues that transition to full renewable solutions will be expensive and needs time but certainly needs to be backed up with small scale nuclear, which is considered to be not green but clean to ensure sustainable energy supply for countries.
17. Murat thinks positive about the position of Turkey in the new order of energy arena where the EU-Turkish energy collaboration will be stepped up to reduce Russian dominance, diversify supply routes, tackle climate change issues and bring in fresh investments.
18. Mehmet Öğütçü, Chairman, The London Energy Club and EU Focus Partner, has outlined his key takeaways from the discussions:
Pragmatism and realism must prevail – the EU should focus on tangible and achievable actions, as set out in the Versailles Declaration on 10 and 11 March 2022, rather than many ideas flying in the air, particularly for the short term while pursuing at the same time the medium to longer term actions in parallel.
Green transition must go ahead but natural gas, whether pipeline or LNG, should always remain an integral part of this painful transition via the EU Green Deal. Also, we cannot do away with coal and oil so easily given that the fossil fuels still represent 82 percent in the world's energy mix.
Energy industry and other main stakeholders must always be consulted properly in every step before taking any dramatic measures by the "political masters"; otherwise, they will not be easy to implement and could possibly harm the industry.
Supermajors like BP, Shell, Equinor and ExxonMobil are exiting Russia, potentially abandoning billions of dollars in assets, after decades of investment. These firms exiting energy investments or joint ventures with a Russia nexus face the risk of serious financial losses, legal disputes, including in relation to divestiture of assets and financing/capital injection commitments. Governments need to support them in appropriate manners.
Parties should identify and prepare for such disputes, including by carrying out an assessment of their contracts for provisions relating to liability, including force majeure, hardship, liquidated damages, indemnity and adjustment provisions. Longer-term impacts include an acceleration toward diversification of energy sources and the review of clean and renewable energy policies.
Russia's war against Ukraine has changed the landscape of global energy and its geopolitics in profound ways. Pieces of this terrain have already begun shifting. As the world's largest combined exporter of oil and gas, Russia has direct energy relationships with more than two dozen European nations, as well as China, Japan, South Korea, Vietnam and others. If coal exports are added, a dozen more countries, including India, are relevant.
Russia's energy customers are not just concerned about sanctions; most are rethinking their reliance on Moscow itself. China, in its support for Russia and its historical defence of national sovereignty, is on a tightrope. And, caught in an impossible balancing act, it is trying to play several hands at the same time. Its global engagements are more important to China than what Putin has been attempting to achieve in Ukraine. Beijing is also a global energy power as producer, trader and investor and will have to consider the global implications of the changing geopolitics for its energy and climate change policies.
19. As the energy, investment and geopolitics remain hot topics in the period to come, Pascal Micheaux has called on all the participants to stay tuned to the joint EU Focus Group and London Energy Club events in the near future for a full set of perspectives and proposals on creating a clearer picture of the new European energy architecture to adapt in light of these unfolding circumstances.
Contacts:
Mehmet Öğütçü, Partner Turkey, EU Focus : mehmet.ogutcu@eufocusgroup.com & Chairman, The London Energy Club
EU Focus Group developed a one stop shop consultancy where advocacy, legal, socio-economic, sustainability, & communication reinforce one another. It ideally responds to the increasingly complex EU societal & political environment. The Quintuple Helix Approach is the EU Focus Group-specific working model.
The London Energy Club is an exclusive members-only gathering of government and corporate leaders from energy, investment and geopolitics. As the centre of the world's major energy, financial and geopolitical decisions, we are clear that London needs an influential and exclusive platform to bring key stakeholders and players together to share quality intelligence, insights and common business concerns on the current and future dynamics affecting policy choices and government decisions.
21 APRIL from 11.00 to 12.30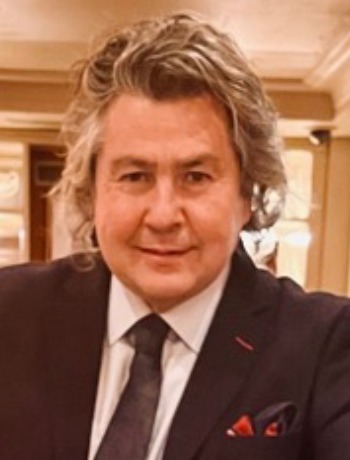 Mehmet Öğütçü
CHAIRMAN
THE LONDON ENERGY CLUB AND EU FOCUS PARTNER
PASCAL MICHAUX
BOARD DIRECTOR
TUDOR CONSTANTINESCU
PRINCIPAL ADVISOR TO THE DIRECTOR GENERAL FOR ENERGY
EUROPEAN COMMISSION
–
WHAT ARE THE NEXT STEPS OF THE EU TO BUILD A NEW ENERGY ARCHITECTURE IN THE AFTERMATH OF THE RUSSIAN INVASION OF UKRAINE OVER THE NEXT DECADE?
SHEIKH MOHAMED AJ ALTHANI
FORMER MINISTER OF TRADE AND INDUSTRY
AND A FOUNDER OF QATARGAS AND RASGAS
–
WILL THE LNG HELP PROVIDE WHAT'S MISSING FROM THE PIPELINE GAS: WHAT ROLE QATAR CAN PLAY IN BRIDGING THE GAP?
MURAT ÇOLAKOĞLU
PARTNER AT PWC
ENERGY UTILITIES AND RESOURCES INDUSTRY LEADER /BOARD MEMBER AT TR WIND ENERGY ASSOCIATION
–
FUTURE DEPLOYMENT OF RENEWABLES
HARRY TZIMITRAS
SENIOR FELLOW
WITH THE GLOBAL ENERGY CENTER, ATLANTIC COUNCIL, AND DIRECTOR OF PEACE RESEARCH INSTITUTE OSLO (PRIO) CYPRUS